DIRECTIONS FROM COLORADO SPRINGS:
Proceed south on I-25 towards Walsenburg. Just past the Huerfano "Volcano", take Exit 56 Redrocks Road and turn right onto Red Rocks Road. Red Rocks Road will "T" into Highway 69; turn right at the "T" and head north on Highway 69. Follow Highway 69 for about 20 miles to Gardner. Gardner is a very small town, no stop lights, maybe 15-18 houses, cafe/grocery, church, etc. Follow the road through town and out the other side.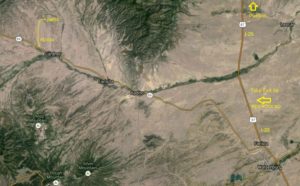 About 1.5 miles from town, just past Mile Marker 27, you will see a driveway on the left with a wooden arch and a skull with antlers on it, an old rusty brown building on the right, and the small green County Road 634 marker; turn right onto CR 634 (dirt road). Watch for the "RMSS TURN HERE" signs! Drive for about 3.5 miles, staying on the main dirt road. Stay to the right at the "Golden Field" Y in the road. Watch for a marker post on the right with the numbers 3854 and a sign to the right of that which reads "De Laura's Pinon Ridge Ranch". Turn right and go past the green metal gate about 1/4 mile. The road will split into two dirt lanes and go up a hill, stay to the right. Watch for a small driveway on the right. This leads to our neighbors house, and is not our property. The property starts with the big field on the right, which is edged with logs (be careful, don't try to drive over them … they're there for a reason!). Drive to the end of the logs and turn right in to the entrance to Starry Meadows; you'll see the Starry Meadows Town Hall building down in the main field.
Google Coordinates:
GPS Coordinates:
37° 50′ 40.17″ N
105° 11′ 27.52″ W
Elevation: 7650 feet