There are many things to do at RMSS. Here is a shortlist of some of the activities you will find at the Rocky Mountain Star Stare:
Pristine Dark-Sky Observing
Marvel in the truly dark night sky, where darkness levels as deep as 21.95 (on the 22 point magnitudes per square arcsecond scale).
National-Level Scientific Speakers
Experts covering the entire spectrum of astronomy – Our speakers span the range from full-time professional scientists to gifted amateurs and everything in between!
Annual Jim West Memorial Youth in Science Lecture
Jim West was the former president of the CSAS. His passion in astronomy was showing the beauty of the night sky to the southern Colorado community, especially to young people. Jim was passionate about opening the eyes and minds of kids to the amazing and marvelous wonders of the heavens. He was an extraordinary person who was loved and respected. He left us far too soon, and this memorial lecture honors his commitment to outreach as well as his warm and wonderful spirit.
This year's lecture is titled "Measuring Atmospheric Methane Levels Of Neptune and Uranus Using Spectroscopy" and will be presented by CSAS Member Erick White.
ATM Walkabout
Amateur astronomers showing off their telescope-making abilities and innovative ideas. View more information about the ATM Walkabout.
Enjoy the RMSS SkySafari Challenge!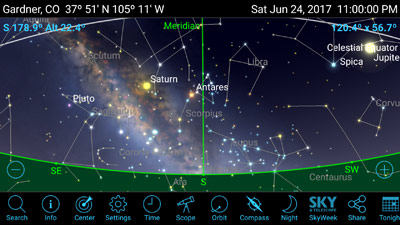 Download our customized lists of 148 objects directly from the SkySafari Plus/Pro astronomy app, and locate and identify as many as you can. Complete the entire list before RMSS closes on Saturday night, and receive a certificate of completion, and your name will be posted on the RMSS website as well.
SkySafari is a professional astronomy software app designed for iOS and/or Android devices. Features include, but are not limited to, accurate sky simulation, large mobile stellar databases, compass and gyro support, educational content, precision graphics and telescope control. More information can be found at the Simulation Curriculum website, located here.
In order to download these observing lists you must have either the SkySafari Plus or SkySafari Pro versions. In order to access the Online Repository, click on the "Search" toolbar icon, navigate to the bottom of the menu and click on the button that reads, "Import From Online Repository". Within, you will see a folder named "Rocky Mountain Star Stare". You can then download one, two or three observing lists and they will automatically be imported into your SkySafari app.
Kids Activities and Games
Activities for young children of all ages are planned throughout RMSS 2017. Activities include Cool Science, solar science activities, learning safe solar observing techniques including making and using pinhole solar observers, space-related coloring book art, building and launching paper rockets, building and flying kites, a door prize giveaway just for kids and more!
Each evening we'll also have a special introduction to astronomy program from 9-10 PM. Bring a telescope you're learning to use, or just come to the North Side of the Town Hall and learn from knowledgeable astronomers on how to navigate the night sky, star hop, or discover new techniques or fun objects to observe.
Door Prizes & Raffle
A chance to win multiple items from our sponsors!
Click HERE to view our full schedule of events.